The Fund Raising effort below is not being conducted by the 82nd Aviation Association. That being said, I believe that it falls within the charter of this organization and I am pleased to help pass the word on. ATW, Chuck

Apache pilot Chief Warrant Officer 4 Brent Cole, with the 82nd Combat Aviation Brigade from Fort Bragg, died May 22, 2009, when his helicopter crashed in Afghanistan. He was 38, married with one son.
On November 13th a painting titled "Answering the Call,'' depicting two Apaches flying in formation above Afghanistan terrain, will hang in the United States Army Aviation Museum at Fort Rucker. Vanessa Cole, her 10-year-old son, Carson, and Brent's mother, Helen Cole, will attend the ceremony.
Proceeds from prints of the painting will go to an education fund for Carson.

Prints are for sale online at www.alisonboyleart.com/ AnsweringtheCall.html.
The painting was done by artist Alison Boyle. Maj. Lee Fennema, her husband, was Brent Cole's company commander.
"I was overwhelmed that somebody would do something like this,'' Vanessa Cole said."I thought it was beautiful. She went to great lengths to make it realistic.''
"I'm honored they would do something in Brent's memory,'' Vanessa Cole said.
Quotes from
Fayetteville Observer

"Painting Pays Tribute to Fallen Pilot"
By Kim Hasty
Staff writer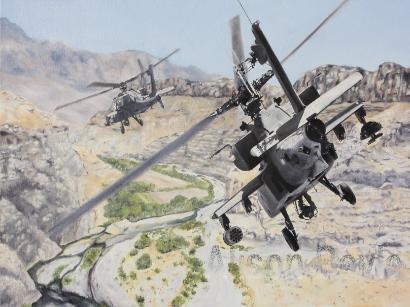 "Answering the Call" by Alison Boyle
Disclaimer - DOD images, symbols, and insignia on this site are used only in reference to their official military unit; they are not logos or otherwise associated with the 82nd Aviation Association. Additionally, the appearance of external hyperlinks on this or any 82nd AA web pages does not constitute endorsement by the 82nd AA of the linked web sites, or the information, products or services contained therein.
Web Hosting powered by Network Solutions®